Adam and his Bicycle
Here I am in my urban warrior clothing. I got the polypropylene base layer on, along with illuminite tights, long sleeve coolmax jersey, illuminite jacket, neoprene gloves, Rockhopper shoes, thermal balaclava, and a helmet with a windshield.
Mr. Tripod took this picture at a park just north of the Tappan Zee bridge on the Hudson River. You can see the bridge there behind me, and the river is a bit frozen. Yes, I was bicycling at night, which is why I've got the reflective jacket and tights on. Normally, they appear black, but since I had the flash on.. I'm glowing. The bicycle also has a 15W NiteRider halogen NiMH lamp (the battery's in the frame pouch) and a blinking red taillight.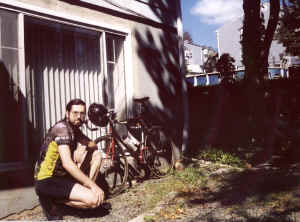 Here's a picture of me outside my New York inhabitance. My bicycle is a red 1996 GT Force with custom built Mavic CXP 30 wheels. It's also got clip less pedals and whatnot.
In contrast to the above photo, this was more of a warm Fall day. Often, I keep a Win CE PDA (along with a first aid kit, spare tube, tools, battery, etc.) in the frame pouch for electronic mapping.
Mountain Biking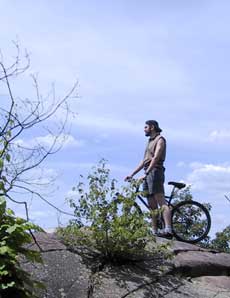 Here's a good picture of me mountain biking in Bethany, CT with my buddy Garrett. We rode to the top of this mountain-like hill cliff thing which usually we yell at from the other side of the lake below. In case you're wondering, yelling at the lake from the top of the mountain does NOT produce an echo.